Lupe Fiasco's Lasers drops on March 8, 2011. Seems like a long time since his tweets in the summer saying his album was done huh? Well at least he has a release date and is not in the stalemate with his record company that he describes here.  Here's the cover art. Anyone else excited?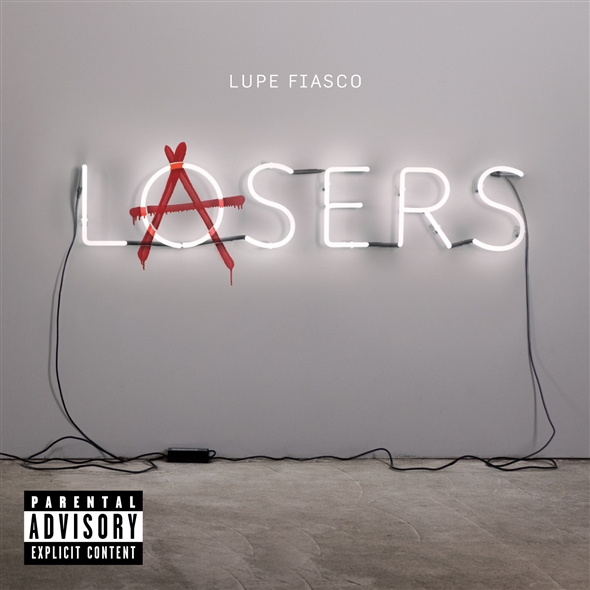 Now I'm on a Lupe Fiasco YouTube marathon. I'm still in awe that "Dumb It Down" made it to radio with its sophisticated, extended metaphors and far out references. I still get inspired by this song. The metaphors are crazy! For instance, I like Fab, but he'd say something like "since yay tall, I've been like Ray Charles/ I don't see nobody"; dope and straight forward, but also lends explanation to the lyrics which can come off cheesy. But Lupe will say "I'm earless, and I'm peerless, that means I'm eyeless"; he says he's without hearing or sight, meaning he can't hear or see his competition, but also he means "peerless" as in without peers, meaning no one is lyrically on his level, whoa. This is followed up by multiple references made back to these statements in this verse and throughout the extent of the song, creating a complicated lyrical web of various themes and topics intersecting at multiple nodes.
---
With all of the moves from labels like Young Money, Roc Nation, and G.O.O.D. Music, the music industry is reminiscent of the NBA power trades (Orlando, Miami). Shady/Aftermath may have been feeling the heat from their competition. This signing involves acts from all over the country. Slaughterhouse (Crooked I, Joe Budden, Joell Ortiz, and Royce 5'9″) locks down the West, Midwest and the East and with Yelawolf, they seize some representation in the South. This sounds like a good thing for hip hop. Hopefully we'll see some more lyricism hitting the mainstream soon.
Slaughterhouse is a self-proclaimed hip hop Voltron, with lyricists that shine individually, but are a force more powerful than ever when they get together on a track. They have been steadily building a cult-like following of hip hop heads who desire raw tracks where complexity in concepts, flow and overall lyricism take the front seat.
Yelawolf is known for his distinctive, scratchy, high pitched 'Bama drawl delivered through a quick, rhythmic flow that contrasts perfectly with trunk rattling, menacing beats. He's been touring around with the likes of Wiz Khalifa,"Waken Baken," and Kid Cudi. Check out his mixtape "Trunk Muzik".
---