Ses Da Great is emerging as the voice of a small city (<30,000) in the middle of the Catskills whose violent crime rate doubles that of New York City's. Before meeting this artist, all I knew about Newburgh, NY was that it was located somewhere in between Albany and NYC, and Orange County Choppers was filmed around there. "Ain't Nothin' Change" will drop you right into to the heart of Newburgh's hood as Ses lends his people a message as strong as the voice delivering it. He channels the spirits of revolutionaries of the past with his socially conscious rhymes, conveying a message of  "unity, triumph, non-violence, and respect for life" as well as raises awareness for the problems present in his hometown. This particular song is on his Star Power mixtape, a culmination of songs, creatively linked together by Mario samples, which each touch on different parts of his personality
Recently, I got a sneak preview of Ses Da Great's latest project, Live Great. This project is different. It's Hip Hop self help. The lyrics and production paint vivid imagery and depict Ses as a superhero to the hood, a divine entity, dropping lyrical nourishment to the masses starved by mainstream music. I'm excited for this release and I'll be sure to have the link here on intellhazefield.com when it drops in February.
They say be the change you want to see and Ses is a symbol of the success anyone can achieve, emanating a positive light that could be seen by all of Newburgh and eventually the world.
---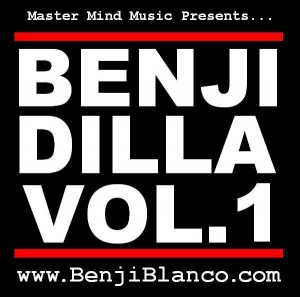 Benji Blanco's sometimes very precise-on-the-beat flow and powerful, crisp voice sound perfect on the boom bapping J Dilla tracks. My favorites on this are the first track, the concert intro sounding "Turn it Up," and the bouncy "Livin the Life" blessed with a catchy, lush, melodic chorus rapped (and discreetly sung haha) by Ses Da Great.
Won't take up much hard drive space, but much worth it even if it did.
Download BenjiDilla Vol. 1 for free here.
---